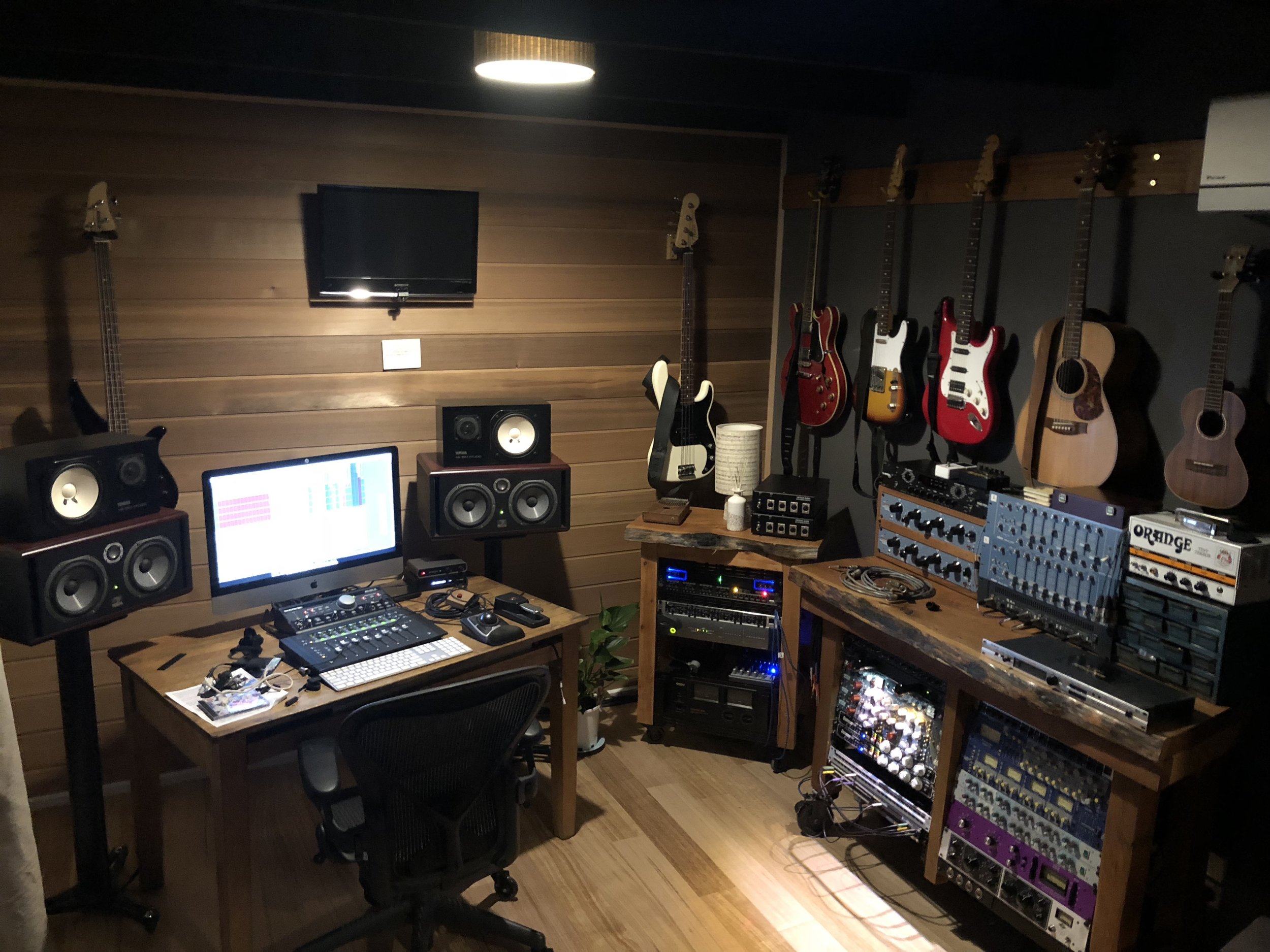 System
Pro Tools HD Native + HD I/O 16X16
Pro Tools HD 11
Universal Audio UAD-2 Satellite Quad
Focal Twin6be Monitors
Yamaha NS10m – Monitors
P16m Headphone Monitor System
Avid MC MIX Control Surface
Empirical Labs Distressor X2
Aurora Audio GTQ2
Vintech X73i X2
Vintech 273
Focusrite ISA430 Channel Strip
AMEK/Rupert Neve 9098 Channel Strip X2
Universal Audio LA610 Channel Strip
Warm Audio EQP-WA (Pultec EQP-1A Style Tube EQ) X2
Focusrite ISA428
TL Audio 2 Channel Valve Preamp
Puple Audio MC77 (1176 Style Compressor)
DBX 266 Compressor
Line 6 BASS Pod PRO
Rupert Neve Designs RNDI
Yamaha P-2200
Mackie Big Knob – Studio Command System
Neutrik Bantam Patchbay
Orban 627A EQ X2
Microphone Robot
Microphones
Neumann U67 Tube Condensor
Neumann KM-184 Stereo Set
Coles 4038 Ribbon Mics Matched Pair
Rode Class Tube Condensor
Shure SM7b With Cloudlifter cl-1
SE Electronics VR2 Ribbon
Neumann KMS 105
Shure KSM 44
Shure KSM 32 X2
Beyer M88
AKG D112
Rode NT55
SE Electronics SE3 X2
SE Electronics z3300a
Shure SM57 X5
Shure Beta 58
Shure SM58
SUB Kick Mic
PZM Microphone X2
instruments
Yamaha C3 Grand Piano
PDP Platinum Series Drumkit
Ludwig Supraphonic Snare Drum
15″ Giant Beat Hats
17″ Paiste Full Crash
18″ Paiste Twenty Series Crash
17″ Zildjian A Custom Crash
22″ Super Zin Ride
Kalimba (Thumb Piano)
Many Percussion Instruments
VOX AC15
Fender Hot Rod Deluxe
Orange Tiny Terror
Valvolux 1X12 Cabinet
Line 6 BASS POD PRO
Line 6 POD HD
Many UAD Plugs
Soundtoys
Celemony Melodyne
Waves CLA Bundle
Lexicon
Slate Digital
Waves Gold Bundle
IK Multinedia
FabFilter
Dedicated to producing great sounding and well crafted music, Four4ty offers affordable rates, catering to all genres. Being a multi-instrumentalist, Jarred Doueal is able to offer solo artists additional tracking for no extra charge; turning your songs into fully produced tracks. Arranging, composing and working through songs is also a part of the process at Four4ty Recording Studio Melbourne.
Based around an AVID HD I/O 16X16 Native Thunderbolt Pro Tools System, the studio also utilises other professional recording gear such as Neumann, Vintech Audio, Focal, Amek Neve, Apogee Convertors, Empirical Labs Universal Audio, Warm Audio, Focusrite, Neumann, Purple Audio, TL Audio, Orban, Digidesign, Akg, Shure, Rode, DBX, sE Electronics, etc etc. Fender, Line 6 PODHD, Vox and Orange Amplifiers are available as is the Yamaha C3 Grand Piano.
A vast array of foot pedals, mics, synths, guitars, basses (Fender Precision Bass) instruments, percussion and plugins are also for the use of clients. The studio offers several rooms linked via camera for ease of communication.
Four4ty Recording Studio offers all artists the opportunity to create a Professional project without breaking their budget. You will not find a more affordable recording studio in Melbourne that produces such High Quality Sounds. Depending on the project, rates can vary so please don't hesitate to call for a price to suit your needs. No project is too big or small..